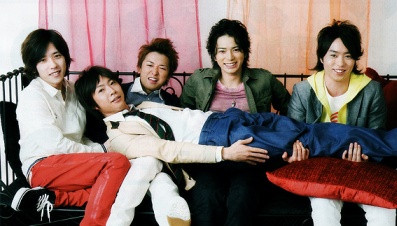 Today marks the one year anniversary to my Arashic obsession.    Has it been that long? It feels like yesterday that I was watching the first episode of Jun-kun's drama,
Bambino
and my ears caught the catchy theme-song.
It is not a surprise that my obsession has not faded like most fandoms which I have come across. There are so many reasons to love Arashi – their friendship, humbleness, diversity, and attitude.
I admire Arashi as a whole and every one of its members — the DoS Jun-kun, the My Pace Riida, the Prankster Nino, the Baka Aiba-chan, and the Chesto Sho-kun. They are one fabulous group…did I say that they are cute as well..hehe!
Arashi's bond and closeness is extremely rare among bands today. You can feel that they genuinely care and enjoy spending time with one another. I truly love the fact they are the best of friends (more like brothers) and are wiling to share the same spotlight The boys are also always encouraging each other no matter what the interest is.  One does not get emotionally if they do not sincerely appreciate each other, this is evident at the following clips:
Though, the attitude of each member is diverse, however, they are overall humble.  They could be at the top of the world, but they are wiling to share the moment and to acknowledge whom had assist them throughout the journey.  I have read on a few accounts of how Jun-kun would memorize the names of the staff for their variety/talk shows, dramas and CMs. I am sure this is the same for all of the boys, they truly understand the importance of  teamwork, every aspect is required for success, not just who's on-screen.
Also, their humbleness is clearly documented in Mago Mago Arashi. Watching the episodes where they become grandchildren for a day is quite heartwarming. There is a sense of I am doing this because I want to, not because I have to. They can simply do a wishy-washy job when helping the ojiisan and obaachan, put on fake smiles and broadcast a skit. This is definitely not the case; it might be hard at times, but the boys are willing to learn and to do the job right. Helping the elderly defines what it means. They also take the extra step of making the occasion a memorable event – planned a wedding ceremony for a couple that didn't have an official one due to personal/finance situations; held a gathering of close friends for a widow who lost his wife for 30 years; helped fulfill a 15 year dream for an ojiisan who wants to reopen his dojo and many more.
Arashi appear to be so natural on tape — their talks flow so smoothly and do not mind what is being filmed.  Though, Arashi is an idol group, but they are not afraid of displaying their affection (to grope, to hug and to cling to each other as they pleased) and baka-ness on screen. This displays their talent to entertain. The enjoyment level  is alway high no matter which variety show you are watching. There is never an ounce of boredom, it is always fun and exciting. From being a grandchildren for a day to catching balls with a basket to bizarre experiments.
The group is also challengers of the future, their eagerness to explore the unknown is rare and unique. Enthusiasm is shown in every absurd and outrageous experiment that is performed even if it is evident that it will go bad. Come on!! Like crossing a river with a boat made of leaves and a human flying in a air balloon made of newspaper!
Their individual talents also allow them to pursue non-traditional and interesting activities. I do not recall any other band with so much diversity. Let's see, we have Oh-chan who is an artist; Sho-kun is a newscaster and writes his own rap lyrics; Aiba works as a part-time zookeeper for a variety show; Nino is a professional magician and Jun-kun is a talented actor. This is only alongside of their variety show hosting and MCs. Extremely well-rounded, ne? Due to their soul works, each member stand out as an individual as opposed to other bands. In most case, there is only one or two members become popular while the rest fade into the background.
Their songs are so full of energy and encouragement, they never fail to make me smile, even on the gloomiest day. Quite addictive as well, I could listen them all day long.  Though, I have to admit that I do not enjoy 100% of their songs, however, 98% is love. There is always plenty to select from – R&B to hip-hop to rock.
I have a feeling that Arashi will be my ichiban, always! I cannot tell you how much I appreciate their wonderful acting, performances, and songs. Sooo happy that they are part of my life!