What is my most favorite dorama? Thanks jicks for leaving me this to ponder on. This was such a good question! Though, it might be a simple one, it is difficult to answer. For me, there are simply too many on my must-see list.
Alright, after brainstorming for some time, the choices were narrowed down to two. Gomen, just was not able pick one or the other. Drumming roll please…LOL…Nodame Cantabile and Gokusen (season one). This is only for Jdorama, I'll save my Chinese favorites for another day.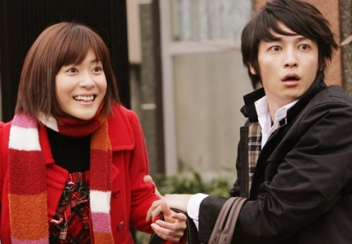 I've always been hesitate to watch live-action manga counterparts as they tend to be lackluster and ridiculous, however, Nodame had taught me otherwise. The series was brilliant adapted and can be considered portrayed even better than its already-excellent anime counterparts. I adore the story, love the classical music and was charmed by the well-developed characters. It was a pleasure watching how their struggles intertwine with their relationships and lives. Also, the chemistry between the hentai pianist and the talented musician/conductor was astounding. It was fascinating on how the story was illustrated their never-ending passion for music and of course, their love for one another. Flying sparks can be sense whenever Nodame/Chiaki are together. They felt and looked so natural as a pair, as well as, compliment each other's weaknesses. Maybe it was just me, but I am positive that Tamaki-kun would steal glances at Juri-chan (evident during the making of clips) as I had always hoped that they were a couple in real life. He seems so blissfully and utterly handsome at those times. Gyabooo!
As for Gokusen, it was certainly not love at first sight. (Please note, this is strictly for season one, I haven't been too fond of additional ones.) When a friend of mine had recommended this, my initial thoughts were yet another school drama and a GTO rip-off. I had no idea why there was so much hype about it. Though, the first viewing had left a good impression since it fun and entertaining, but my level of fascination did not reach its height. In addition, I had found Sawada Shin's (portrayed by MatsuJun) mean-tempered troublemaker attitude displeasing. Okay sue me, I was naive and was clueless of who and what JE was.
I believe it was a few months later and for some unknown reason, I had wanted give the series another try. ….and no it wasn't for Jun-kun, my interest in him hadn't sparked yet. (Though, I was pretty obsessed with Chikai-sempai at that time. ) Well, I now had cursed myself for letting this gem slip. The humor in the series was certainly cute (overbearing nor exhausted); the situations were fresh, and the characters were charming. Overall, it was quite entertaining and the cast had brilliantly performed each of their roles. Somehow, I had found Shin to be simply kakkoii and very mature this time around. You always get a good laugh, especially when watching the interactions between him and Yankumi. Can you feel their attraction toward each other? I've been a Shinkumi shipper even since! It was such a disappointment on how the Gokusen franchise (TV series and movie) had left off with no reflection of topic. I've been relaying on the manga and fanfics to fill the void. Let's all pray for a Shinkumi reunion soon?!
So what is your favorite Jdrama?

If you're wondering about the other nine dramas that made it to my top ten, they are as follows (in order particular order):
-HERO
-Haikei, Chichiue-sama
-Tatta Hitotsu no Koi
-Pride
-Kekkon Dekinai Otoko
-Unfair
-JIN
-Dragonzakura
-Bloody Monday 1