Day 10: Second most favorite solo
I'm sure that those that follow my blog know that my ultimate favorite solo of Miki-sama's is Gyakufuu no Toki ni Hitori. You can find my previous post regarding the song with Romaji and English lyrics here. Hmm…for my second most favorite, I would have to go with One Night Cruising, which is the most listened to along side with my first choice. This is the ending theme to the Haru wo Daiteita OVA, sang by Katou Youji who voiced by my beloved.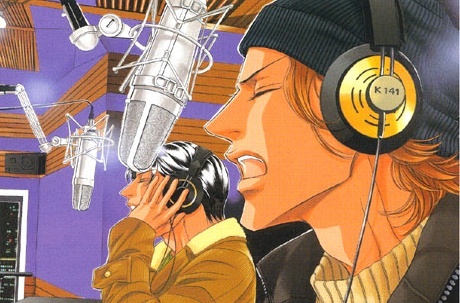 Honestly, this did not left an impression after my first viewing of the OVA like most. It was not until I read all 14 volumes of the manga that I become obsessed with all Haru wo Daiteita related things. XD I found the song to be a delight with its amazing beats which allowed Miki-sama's talented vocals to shine lovely.
Unfortunately, the lyrics to the song still has yet to be translated, but here are in Hiragana and Romaji:
One Night Cruising
Vocals: Katou Youji (voiced Miki SHinichiro)
Ending Theme to Haru wo Daieita OVA
曖昧を飛び越えて それを過失と
言うならば「愛」なんて この世に存在ないさ

小指をかれめ 迸るENERGYを
交わるし会う 瞬間に

Aimai o tobikoete sore wo ma yamachi to iunaraba ' ai' nante konoyo ni sonzai shinai sa koyubi o karame hotobashiru Energy o kawashi au shunkan ni

BYE BYE恐れていたすべて
BABY KEEP ON DANCIN' 夜通し STEP
JEALOUSYぐっとSYNCHRO てMOMENT
もう止められない 二人だけの
ONE NIGHT CRUISING TONIGHT

Bye Bye osorete ita subete
Baby keep on dancin' yodMshi Step
Jealousy gu tto Synchro shite Moment
mo utome rarenai ni-hito dake no
One Night Cruising Tonight!

衣擦れ音だけが 軋む呻き声
危なけないオス達が ドアを突き刺し たその視線

群からはぐれ ありぶれた日常を
本物に変えて行く

Kinuzure no otto dake ga kishimu umekigoe AV nage na osu-tachi ga doa o tsukisashita sono shisen
Mure kara hagure arifureta nichijM o honmono ni kaete yuku

PASSION感じて潜り込む
BABY KEEP ON DANCIN' 情熱ORAL
経験だけが増えて行く HONEST
DEEPな嘘が邪魔をする夜
ONE NIGHT CRUISING JUST NOW

Passion kanjite mogurikomu
Baby keep on dancin' jMnetsu no Oral
keiken dake ga fuete yuku Honest
Deep na uso ga jama o suru yoru
One Night Cruising Just Now!

BYE BYE恐れていたすべて
BABY KEEP ON DANCIN' 夜通し STEP
JEALOUSYぐっとSYNCHRO してMOMENT
もう止められない 二人だけの
ONE NIGHT CRUISING TONIGHT

Bye Bye osorete ita subete
Baby keep on dancin' yodMshi Step
Jealousy gu tto Synchro shite Moment
mo utome rarenai ni-hito dake no
One Night Cruising Tonight!

PASSION感じて潜り込む
BABY KEEP ON DANCIN' 情熱ORAL
経験だけが増えて行く HONEST
DEEPな嘘が邪魔をする夜
ONE NIGHT CRUISING JUST NOW

Passion kanjite mogurikomu
Baby keep on dancin' jMnetsu no Oral
keiken dake ga fuete yuku Honest
Deep na uso ga jama o suru yoru
One Night Cruising Just Now!

From Lyrics Freak