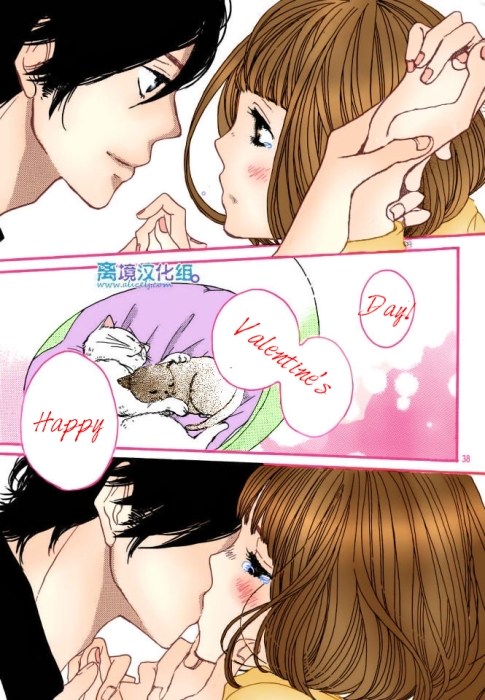 I hope everyone will be able to spend this special day with their love ones, family and friends!
The above features Tachibana Mei and Kurosawa Yamato from the Suki-tte Ii na yo. manga by Hazuki Kanae, which has recently become a favorite of mine. The pretty coloring is not accomplished by moi, I did changed the words in the bubbles though.
So here's to my very first review for 2013, I'm going to skip some topics and just talk about the main couple.
Mei is our lonely outcast protagonist, who completed ignored by fellow classmates. Since she has lost trust in everyone due to some childhood events, she does not find being anti-social an issue. Yamato is your typical prestige high-schooler, who is not interested in a girlfriend that is high-ranking and trendy. He might be friends with them, however, intimate relationships with these types can be unanimated and lackluster for him. Their paths cross one day and Mei's journey in renewing friendship and love begins.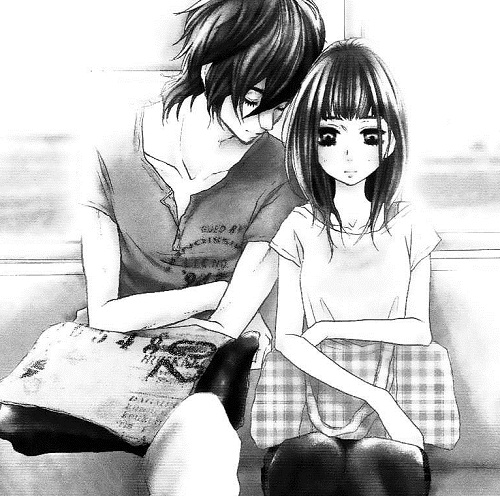 When Mei requested assistance from Yamato after being stalked by a patronage from her employment, their romantic voyage is ignited which he took the main initiative. She is quite hesitate at first, believing she is another girl since his kindness toward others is well-known. Yamato's feeling toward her are sincere and ensured her numerous of times that he truly likes Mei for who she is. He finds her interesting to be with and hopes that their interacts will bloom into something beautiful. Yamato does this in a sweet and caring manner, taking small steps and checking on her comfortable level whenever they go on dates and making new friends. Mei is his new world and happiness is all he hopes for.
As the story progresses, conflicts and misunderstandings plague the couple due to lack of communication and carefulness which is typical in a shoujo series, not everything is peachy once the romance starts. However, they gradually learn from their mistakes and understand the importance of seizing the moment rather than keeping quiet or having it bottled up for a period of time. Mei also regains the ability to trust others and shows willingness to share her heart with her partner and many new friends that come along their journey. Besides Yamato and Mei, there are a few other couples in the story along with love rivals, family members and friends. I will not touch on them here since it might take another page or two. :p
I really enjoyed the different approach that is taken to weave the story rather than the typical flower and candy story with a sappy and weak heroine. Mei is levelheaded, independent, observant and determined. Her situations are realistic and can be sympathized by any teenage girl going through high school and love. Yamato is caring, kind-hearted and protective, but can be impulsive and jealous when it come to Mei. Though, he has his own dilemmas, others come first and foremost. He can be such a sweetie at time, but an airhead the next, which makes him lovable and down-to-earth. Yamato and Mei also complement each other wonderfully in personalities. His willingness to change for Mei is unrival. He understands that when she is different, he needs to adjust for the betterment of their relationship. When he does, a new leaf is turned on her side as well.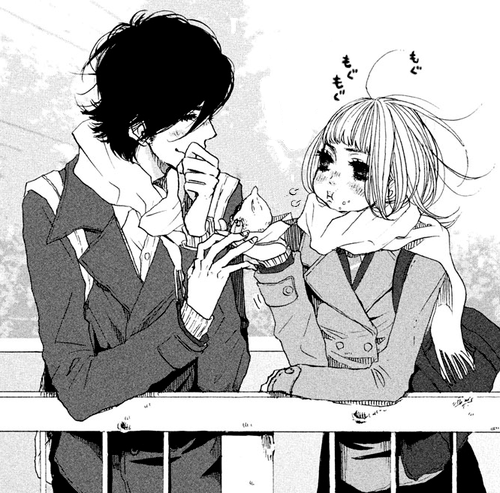 Everyone who enjoys a simple romantic story with a touch of slice-of-life would adorable the anime as well. I also found the character development and growth to be wonderful for the 13 episode anime. The storytelling was nicely paced with the relaxing score and average animation scene. Hopefully, a second season will be in works soon when more chapters are completed by Hazuki-sensei. For the time being, let's continue to be mesmerized by the manga which is beautifully illustrated.
*Last two gifs from Tumblr.