I just finished watching Hanzawa Naoki and absolutely fell in love with the drama, as well as, the super talented, adorable Sakai Masato. I encourage everyone to give this a try and guaranteed that you will be hooked. It is definitely more than your average man-in-suit TV series, a suspense thriller scripted and produced in all the right ways. May I say that the cast members looking dashing in their attire, there is always something charming about an ikemen no matter what age they are.
Without a doubt, this masterpiece will entertain you with its powerful performance, leaving you waiting for more after each episode. Its orchestral score which is used as the background music is stunning and builds up the needed atmosphere for each scene. Another amazing achievement is that the finale had an average of 42.2% viewership; out-rating the imfamous Kimura Takuya. Well, I guess that king needs to move aside one of these days, I still love Kimura to bits though. :lol: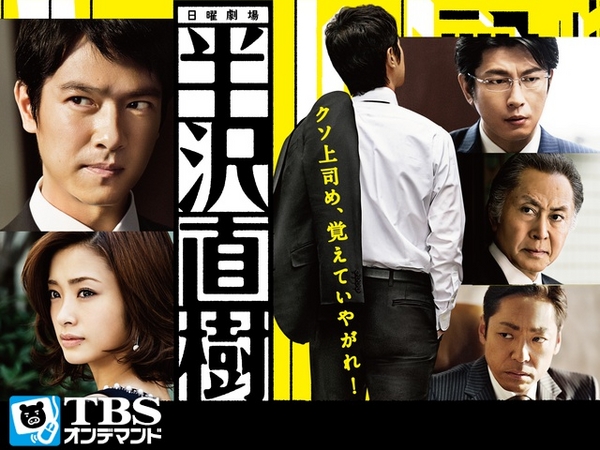 Here's its synopsis from TBS:
Hanzawa Naoki works for Tokyo Chuo Bank as the head of the Loans Division at their Osaka Nishi branch. The overbearing branch manager, Asano, forces him to award an unsecured loan of 500 million yen to Nishi Osaka Steel. On the surface, Nishi Osaka Steel seems like a very reputable company, but in actual fact it is a company in deep trouble. Debt-ridden, the company accountants resort to window-dressing the financial statements in order to hide the truth from the public. Three months after the loan, Nishi Osaka Steel goes bankrupt and the ambitious and power-hungry Asano makes Hanzawa the scapegoat for the 500 million loss. Hanzawa is called to Tokyo to answer to the internal investigations team, where he vehemently denies responsibility for the loss, and swears to recover the 500 million yen. That is the only course of action for Hanzawa, if he wants to survive in the banking industry.
Look it even has fanart, that got to tell you something….

Hanzawa Naoki Quick Sketch by ~LUN2004 on deviantART

Hanzawa Naoki by ~CrossJae on deviantART

Hanzawa Naoki by ~Lunpi on deviantART