I just finished watching We Got Married Global Edition (GWGM) on Hulu Plus (with English subtitles) and fell in love with this daramji couple, nicknamed by the staff and fans. This is a Korean realty show where two international celebrities join together in a virtual marriage.
Here's a glance from their wedding photo album: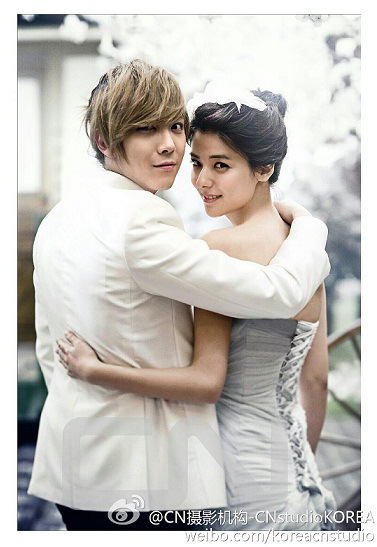 They looks so beautiful and happy together, I hope that their real-life friendship blooms into something more. Although, awkwardness and shyness was evident at first, but as the show progressed, their actions indicated that they genuinely cared for one another. Yes, it might be their superior acting skills, but from what I read, only 30% was scripted, leaving the freedom of 70% to plan their surprises to their heart's desires and express without any filters within the TV world, of course. Hong-chan did beyond what the show would require like preparing a second wedding ceremony as he felt the first was dampened by the weather (it snowed) and spending time to create a homemade bracelet for his wife rather than resting during their overseas honeymoon trip. He even said that she looked was like the goddess, Athena. ♥ His sincerity can be sense as he always trying his best put her feeling before his own. BTW, Mina-san was a fan of his, she sang highly off-key of his infamous song during their first meeting. Extremely braved of her, he was kind of embarrassed, but was still happy. This is definitely fate!
Hongki & Mina-san oozing with Korean cuteness

Mina-san & Hongki piano duet – Her wedding gift to him

Hong-chan's proposal to his Nuna~~ It was so sweet and beautiful….

It was extremely devastating and heartbreaking when they had to say farewell to one another since this is a virtual marriage, it felt like two of my best friends were breaking up. If they had me kyaa~~ for them for 15 episodes and searching for fan fiction, do you know what will happen if they were casted in a drama together or announced to the world that they are really dating! ♥♥ Praying that it will be reality one-day and has everyone support!! At least, we know that they are keeping in touch, evidence.
I have only seen Mina-san from the Jdrama, Bloody Monday, and have never even knew that Hong-chan or his band (FT Island), existed until now. The series aired a few years ago and Mina-san was much younger, but she has become such an intelligent and sophisticated lady. As for Hong-chan, I thought he was just another youngster from another boy band that has a really bad reputation with the ladies. …and now Mina-san has changed him into a mature, considerable and lovable adult, even his own friends said on the show that he is completely different around his wife. I have become addicted to his charm, mischievous, shyness and caring nature as the GWGM progressed. He simply is a wonderful, talented individual with a gorgeous voice. I was also impressed by his fluent Japanese and really doubt that another Korean star will grab my attention like his.
GWGM Season One is highly recommended even if you are not interested in Korean entertainment, I promise endless smiling and laughter will be experienced as you share your journey with our daramji couple.