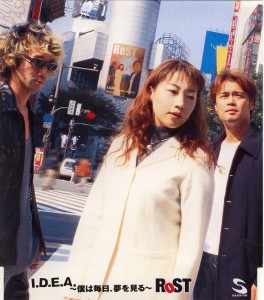 Out of the blue, my brother had asked for information about Mega Man and off I went searching. To my surprise, a Youtube clip associated with RoST had appeared via my Google search, I knew that my beloved Miki-sama was associated with the act…could they be same?! Kyaa~~ and yes, yes, it was truly them. XD
RoST (紳士的好色三人組) is a seiyuu group consist of Miki Shinichiro, Ishikawa Hideo, and Kasahara Rumi. I am not positive of the reasons to why the group was born, might have been for a series or something else (Do drop me a note if you have any ideas, I would love to know. ) However, for the short life span of the act, they had produced many wonderful and lovable songs.
I.D.E.A. ~Boku wa mainichi, yume o miru~ is the ending theme for Mega Man X6. The music is quite upbeat and catchy causing me to hum along with it as the piece was played continuously via my WMP. The vocals were executed beautifully by the three seyiuus, even the rap performed by Miki-sama. which I found delightful. Now, now you probably think I believe that all things touched by him are gold, which they are not, but this one certainly is! I absolutely adore his energetic performance. XD Also, the lyrics are quite inspirational — being able to dream every day and aiming to succeed them. Definitely wonderful, ne?!
So here is I.D.E.A. ~Boku wa mainichi, yume o miru:
I.D.E.A. ~僕は毎日、夢を見る~ (I.D.E.A. I see dreams, every day)
Lyrics: Yokoyama Isamu
Music and Arrangement: Kashibara Nobuhiko
Vocals: RoST (Miki Shinichiro, Kasahara Rumi, and Ishikawa Hideo)
Ending theme for MegaMan/Rockman X6
Todokisou na
hitosuji no hikari mo
gooru janai
tsugi no tabi no hajimari

It seems when you're going forward
The straightforward light of glory
Is not your goal
It's the beginning of the next journey

Subete o sutesaru
yuuki ga aru nara
motto tooku e yukerusa
dokomademo

Abandon everything
If you have the courage
You can go even further
Anywhere

Hoshizora ni chikai ano basho ni
nani ga aru no darou
tozasareta doa no mukou
tashikamete mitai
puropera mo hane mo iranaisa
sukoshi aidea ga areba
kanarazu toberu Fly high

In that place close to the starry sky
I think there's something
On the opposite side of a locked door
If you want to see for sure
Even if it seems you have no propellar or feathers
All it takes is a small idea
and certainly you can soar Fly high

Sora wa takaku
fuku kaze wa yasashii
koko ni itemo
fuman nankanai kedo

In the endless sky
The wind is gentle
Even in this place
There is no dissatisfaction, however

Ushinau kawari ni
tsukamu mono mo aru
motto ooki na jibun o
mitsuketai

In parting with compensation
You've seized something
If a bigger self
Is what you want to find

Sansarou de mayou migi hidari
sukoshi fuan demo
onaji dake mune no naka ni
kibou ga aru kara
sobie tatsu kabe mo torikku mo
kimi ni aidea ga areba
norikaerareru Fly high

If you lose your way at a three-forked road and don't know left from right
Even if you feel a little uneasy
Because in that same heart
There is also hope
You can stand tall against walls and tricks alike
If you have an idea
You can overcome it Fly high

Anzen o negau Donkey
bouken o erabu Monkey
taikutsu…
juujitsu…
boku wa mainichi, yume o miru
soshite subete o tobikoeru
I.D.E.A.

A donkey wishes for safety
A monkey chooses the risk
It's boring
It's fulfilling
I see dreams, every day
And rise above everything
I.D.E.A

Hoshizora ni chikai ano basho ni
nani ga aru no darou
tozasareta doa no mukou
tashikamete mitai
puropera mo hane mo iranaisa
sukoshi aidea ga areba
kanarazu toberu Fly high

In that place close to the starry sky
I think there's something
On the opposite side of a locked door
If you want to find out for sure
Even if it seems you have no propellar or feathers
All it takes is a small idea
and certainly you can soar Fly high

I D E A I D E A I D E A I D E A I…

I D E A I D E A I D E A I D E A I…
Lyric translation from Freiheit Lyrics