Happy April, minna-san!
Did you know that this month marks my fifth year anniversary to my addiction to the rainbows and storms? Well, nothing weather-related, but you get the picture. It milestones my first purchase to any concert DVD; you probably guessed that it was Arashi related. It was the concert to their Time album to be exact. Who would have thought my love for these adorable dorks would last this long?!

I have enjoyed every moment spent listening and watching them as we matured together. Truly proud of them on how much they have accomplished from a mere JE group to a nationally recognized idols, worldwide if you squint. LOL In celebrate to this special occasion, I'm going to take the 30-day Arashi challenge…hajimaru yo!!!!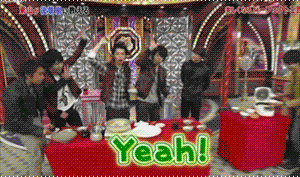 Day 1: Five favorite B-sided Arashi songs
My current ones are as follows in no specific order:
Refrain (Boku no Miteiru Fūkei)
Mukae ni Iku yo (Boku no Miteiru Fūkei)
Mada Ue Wo (Boku no Miteiru Fūkei)
Tokei Jikake no Umbrella (My Girl)
Still… (Happiness)
GIF credit: Tumblr